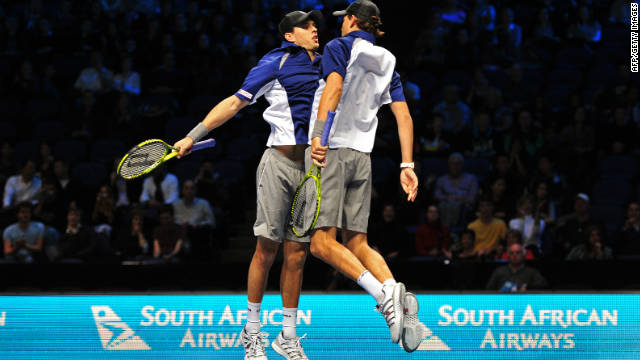 No, this isn't a blog post about a new Bryan brothers chest bump.
It is that time of year when USTA League players start wondering if they will be bumped up or not. Okay okay, quite a few have been wondering since much earlier in the year if the number of
Estimated Dynamic NTRP Rating Reports
I did starting in January is any indication.
I wrote yesterday about some general
statistics on the percentage of bumps up/down by level
and today did a report for a player that is on the verge of a double bump and it got me thinking. Double bumps do occur, I've seen a few in the past, but how rare are they? I did some analysis and here is what I found.
I looked at players that held a C/B rating at the end of 2012 and 2013 and then how many of them were bumped up or down and how far.
As I wrote yesterday, 87.7% of players stayed at the same level. Right around 4.1% were bumped down and 8.2% were bumped up. Those quick with math will see that totals 100% so were there any double bumps?
Yes, the above numbers are rounded, and indeed there were some double bump ups, but so few, 25, that it is kind of in the noise given how many players played USTA League in 2013. So yes it does happen but happened to just 0.01% of players last year.
What about the double bump down? I did not see any of those.
Do you know someone that was double bumped? If so, it looks like you are one of the few.